Checking
Get the free checking account that moves you forward.
Get everything you need in one simple account.
There's no minimum balance requirement, either.
30,000+ Unlimited Fee-Free ATM
Find them at familiar places where you shop.
Access your account with our top-rated app2
Get Paid Up To A Day Early
Direct deposit3 makes your money available sooner.
Get friendly help in person for all your financial needs.
For each debit card transaction, Tower donates to military heroes and children in need.
You'll always have access to your money whenever you need it, whether it's through an ATM or by using our digital tools. Simplify your daily money management with this convenient checking account.
More free ATMs than the big banks – Tower ATMs are conveniently located throughout the Baltimore/Washington area. Plus, members have free unlimited access to over 30,000 free ATMs nationwide, including many 7-Eleven and Royal Farms stores. Find an ATM.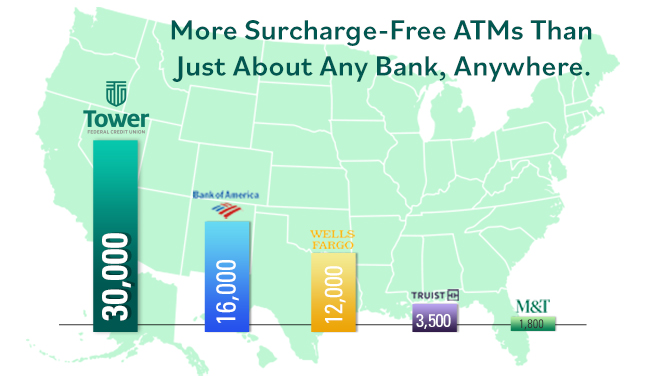 Sources: WellsFargo.com, BankofAmerica.com, MTB.com, Truist.com
Fraud Protection – Enjoy 24/7 fraud monitoring and rest easy knowing that if your debit card is lost or stolen, you won't be responsible for any unauthorized charges
Enhanced Login Security – Add more security with Biometric Login, multi-factor authentication, or your favorite authenticator app (Duo, Authy, etc).
Card Controls and Alerts – Lock and unlock your debit card, setup alerts and control how and where your card can be used.
NCUA Insurance – Deposits at Tower are insured up to $250,000 by the National Credit Union Administration (NCUA).
No-Fee Overdraft Options – Connect a qualifying Tower savings account or a Personal Line of Credit and pay no transfer fees. See your overdraft options.
Move Money Easily – Pay bills online or send cash with PayPal or Venmo.
Digital Wallets – Fully compatible with Apple Pay™, Samsung Pay™, and Google Pay™
Request Checking – Open an additional limited checking account to better manage your finances.4
Dividend-Bearing – Earn daily dividends on your account balance. View rates.
Starter Checks – Receive your first box of 80 checks for free.
Learn more about Tower's Digital Self-Service Options.
Free checks with direct deposit
Free checking fits you perfectly