Beware: Mortgage Protection Postcard Scam
Tower has been made aware of a postcard scam targeted at recipients of Tower mortgages and/or home equity loans. Please be aware that this is in no way sanctioned by or affiliated by Tower.
If you receive one of these, please discard the postcard. We strongly recommend that you DO NOT contact the number provided on the postcard.
If you have any questions about whether an offer is legitimate, please contact us.
The information below is a sample of the mailer.
Header: IMPORTANT NOTICE: IMMEDIATE RESPONSE NEEDED
Indicia: FIRST-CLASS MAIL PRESORTED US POSTAGE PAID DAYTONA BCH FL PERMIT NO. 447
Body of Postcard: Addressee Name,
This notice is regarding your mortgage with Tower Fcu. We need you to please call us about an important matter regarding this loan. This is time sensitive so please call us at 855-715-1657 as soon as possible.
Mortgage ID#: XXXX-XXX-XXX
To: Your Address
Disclosure in small type at the bottom: All information provided by H.W.C., 844-991-2777. Not affiliated with, sponsored by, and loan information not provided by Tower Fcu.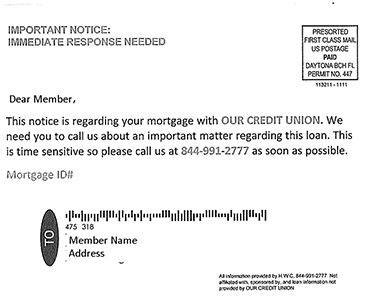 Save with peace of mind
With short and long-term solutions, dollar by dollar you can begin building a brighter future.